Author(s):
PCE

CDAA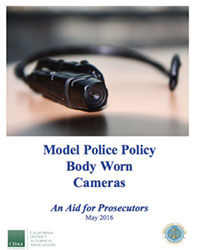 Model Body Worn Camera Policy for Police: An Aid for Prosecutors
Digital evidence includes evidence retrieved from cell phones, computers, surveillance cameras, and social media sites. PCE can provide information on how digital evidence is captured, preserved and authenticated for use in court, as well as information to assist prosecutors with addressing emerging issues, such as police worn cameras.
The model policy is created as a guide to prosecutors who are working with their police departments on the implementation of body worn cameras. The policy includes "Use Notes" that indicate the points where different decisions can be made and the considerations for making those decisions. Also accompanying the model policy is a checklist outlining the many issues that should be addressed in a body worn camera policy.