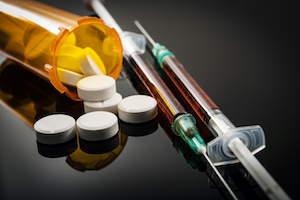 Prosecutors across the nation face challenging questions regarding their role in reducing the fatal consequences of the opioid epidemic. In order to help address these questions, the National District Attorney's Association (NDAA) created an Opioids Working Group to research and propose effective policy for prosecuting and diverting overdose related cases. The practices identified in the working group in the areas of enforcement, prevention, and treatment are provided in a white paper.
In addition to the useful NDAA paper, here are some additional topics that relate to the opioid crisis:
Fentanyl – The CDC provides a brief overview of fentanyl and how it is being used illegally in the following article. Read
The CDC has also issued guidance for first responders who may encounter fentanyl. According to the CDC, responders are most likely to encounter illicitly manufactured fentanyl and its analogues in powder, tablet, and liquid form. The CDC details ways to prevent fentanyl exposure in the following article. Read
Naloxone – Expanding access to Naloxone is recognized as a critical strategy in the fight to prevent overdose deaths. Persons who have been incarcerated and are back in the community are at a 128 times higher risk for overdose than the average person. New York State has developed an innovative corrections-based response to this issue. Read.
Law Suits Against Manufacturers and Distributors of Opioids – Prosecutors have been involved in many of the law suits that are being filed against the manufacturers and distributors of opioids. The largest litigation involves hundreds of law suits that have been gathered before a single federal judge in Cleveland Ohio. The judge has convened talks between the parties in an attempt to arrive at a settlement of the issue. Read.
Prosecuting Doctors – Prosecutors have convicted doctors for running pill mills. Read. They have also charged doctors with homicide for prescribing opioids to known addicts who subsequently fatally overdosed. For example, a doctor in Queens, NY was convicted on two counts of second-degree manslaughter. Read.
Grant Funding – Approximately 320 million federal grant dollars will be distributed across the country to address the opioid epidemic, including a grant called Innovative Prosecution Solutions for Combatting Violent Crime and Opioid Abuse. This year's awards were granted to prosecutors in Louisiana, Massachusetts, Michigan, Tennessee, Alabama and Texas. Read.
Civil Commitment – While the medical benefits of civil commitment are still being studied, the practice is occurring with greater frequency as a strategy to get addicts treatment. Thirty-seven states and the District of Columbia have civil commitment laws that appear to encompass involuntary confinement of persons with substance abuse disorder. The existing legal landscape and medical, ethical, and legal concerns are discussed in the following article. Read.