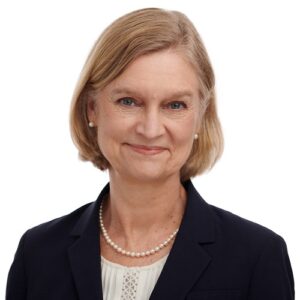 Kristine Hamann
PCE Founder and Executive Director
Kristine Hamann is the Executive Director and founder of Prosecutors' Center for Excellence (PCE). PCE provides policy expertise for modern prosecutors. PCE's consulting and research services promote best practices, spur innovations and implement solutions. PCE also supports statewide prosecutor-led Best Practices Committees that have formed in 20 states. PCE publishes articles and produces the Articles of Interest Series and the Did You Know Series on a wide variety of issues related to prosecutors. PCE hosts regular national meetings for prosecutors to share ideas on best practices and emerging issues.
Ms. Hamann, and PCE's team of experts, are prosecutor consultants for offices of all sizes across the country on a variety of topics including full-office assessments, investigating violent crime, witness intimidation/witness cooperation, conviction integrity, discovery, body worn cameras, ethics and enhancing community trust. Many of these engagements are paid through federal grants. Ms. Hamann regularly presents at national and statewide prosecutor meetings on a variety of criminal justice-related topics.
From 2013 to 2016, Kristine Hamann was a Visiting Fellow at the Department of Justice/Bureau of Justice Assistance. She is the chair of the New York State Best Practices Committee for prosecutors and she is an advisor of the National District Attorneys Association's Best Practices Committee. She is an Adjunct Professor at Georgetown Law School. She is a member of the ABA Criminal Justice Council and is on the ABA Criminal Justice Journal Editorial Board. She was an Independent Counsel to the Conviction Integrity Unit of the United States Attorney's Office for the District of Columbia.
From 2008 to 2013, Ms. Hamann was the Executive Assistant District Attorney for the Special Narcotics Prosecutor for the City of New York. The office conducts international, national and local drug trafficking investigations and prosecutions which impact New York City.
From 2007 to 2008, Ms. Hamann was the New York State Inspector General. The Inspector General is charged with investigating and preventing fraud, waste and abuse in New York State government.
From 1998 to 2007, Ms. Hamann served as the Executive Assistant District Attorney to D.A. Robert M. Morgenthau in the Manhattan District Attorney's Office in New York City. Prior to 1998, Ms. Hamann held several other positions in the Manhattan District Attorney's Office, including Deputy Chief of the Trial Division in charge of the Criminal Court, Director of Training, and Deputy Bureau Chief of the Career Criminal Bureau. After law school she was an associate at Simpson Thacher and Bartlett in New York City.
She has received various awards including the Ethics and Accountability Award (City & State NY, 2018); Outstanding Prosecutor of the Year (NY State Bar Association, 2013), Prosecutor of the Year for Executive Leadership (NY District Attorneys Association, 2010), Excellence in Government Award (Albany Law School, 2008), Public Service Award (NY County Bar Association, 2005) and New York County District Attorney's Office Prosecutor of the Year (2001).