Victim Services and Crisis Training Volunteer Programs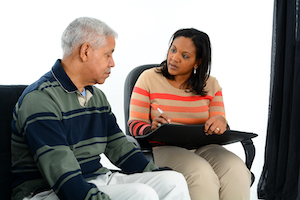 The Pima County Attorney's Office in Arizona has established a volunteer program for members of the community interested in assisting crime victims and people in crisis. The vetting and training process for victim advocate volunteers is very thorough to ensure high quality candidates are selected and are committed to long-term volunteer service.  The Victim Services Division currently has close to 100 volunteers, some of whom have served for decades.
Volunteers for the Pima County Attorney's Office of Victim Services Program  provide important services to the criminal justice system by supporting crime victims going through the court process or by responding to crime scenes at the request of law enforcement. Both programs are part time and require the volunteers to complete training on the criminal justice system and basic crisis intervention. Prospective volunteers must first complete 36 hours of basic training and another 30 hours of advanced training of their choosing, either in the area of court advocacy or crisis intervention.
 
Crisis Program – Responding to Crime Scenes
The primary role of crisis volunteers is to provide psychological first aid to crime victims throughout the Tucson metropolitan area and Pima County. At the request of law enforcement and regardless of whether or not an arrest is made, groups of up to three volunteers respond to multiple crime scenes throughout their scheduled shift using unmarked police cars. Volunteers carry handheld radios in addition to their cell phones to ensure that communication can occur with law enforcement at all times.
 
Volunteers converse with each victim and use strategies consistent with the ABC model of crisis intervention to allow the victim to process their experience. All communication with the victim is confidential per Arizona statute, and in fact, the volunteers will likely never see the victim again after their initial interaction. While volunteers do not provide formal therapy or counseling, they do support the victim by providing a possible course of action for the next 24 hours, information about their rights, and available services.
 
A particularly unique aspect of this program is that volunteers collect data on each interaction they have with a victim. They fill out a standardized form in order to track and record the interactions in a database for grant and other data reporting needs.  Regularly interns will reach out to victims who have received services to identify if the services offered were helpful and to offer any additional support that might be needed.
 
Volunteers are required to commit to this program for 20 hours per month for one year and can choose from a variety of shifts throughout the day and night. To further protect victim information, volunteers are required to sign a confidentiality form "part 1" and confidentiality form "part 2". 
 
Some police departments (for example Erie County, NY and Chattanooga, TN) have taken a similar approach to crisis training and intervention for victims, although typically with paid staff instead of volunteers. These and other departments have a mental health professional or social worker accompany a law enforcement officer responding to a call for service involving a person in crisis.
 
Court Program – Providing Support for Victims in Court
Court volunteers serve victims in Superior Court, Justice Court, and Juvenile Court. They accompany victims to court and provide support as their case progresses through the criminal justice system. The time commitment for the court advocate program is one year, and volunteers must be available for shifts during working hours.
 
Check out the flyer for more details on these excellent Pima County programs.