Issues and resources under each tiled topic are broken down into three categories
The articles and reports in Issues and Resources are a combination of PCE-authored articles as well as external articles that deal with emerging issues and topics related to prosecutors. Regarding the external articles, PCE does not vouch for the accuracy of the content and no editorial comment is intended by their inclusion.
More information can be found in Prosecutor's Encyclopedia (PE)
PE was developed by the New York Prosecutor's Training Institute and is a private wiki page only open to prosecutors. For a comprehensive library of resources, visit the PCE Policy Library within PE.
Featured Program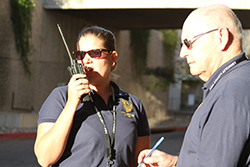 Arizona – Pima County: The Pima County Attorney's Office has established a volunteer program for members of the community interested in assisting crime victims and people in crisis. The vetting and training process for victim advocate volunteers is very thorough to ensure high quality candidates are selected and are committed to long-term volunteer service. The Victim Services Division currently has close to 100 volunteers, some of whom have served for decades.
Click here to view the full Pima program summary and Arizona's innovation report.
Search bar
Issues List
Additional Resources
For PCE trainings and events, click here