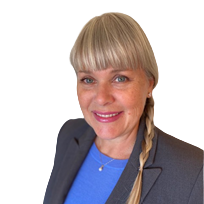 Sophia Roach
PCE Senior Attorney
Sophia Roach is currently a Senior Attorney with the Prosecutor's Center for Excellence. She earned her Bachelor of Arts degree from the University of California at San Diego, her Juris Doctor at the University of San Diego School of Law, and her LL.M in Prosecutorial Science at the Dale Fowler School of Law.
Ms. Roach began her prosecution career with the San Diego County District Attorney's Office as a Victim-Witness Unit volunteer in 1995 and served as a Deputy District Attorney from 1998 to 2021. During her career, Ms. Roach assisted in the management of four divisions, serving as Assistant Chief of the Juvenile Division and the Appellate and Training Division and as a team leader in the Gang Prosecution Unit and the Superior Court Division. Ms. Roach was also the director of intern recruitment and training programs between 2009 and 2011. During her tenure, Ms. Roach served as an office ethics advisor, member of the office Training and Advisory Committee, liaison to the FBI Violent Crime Task Force, the East County Gang Task Force, and the Jurisdictions United for Drug and Gang Enforcement Task Force, and the San Diego Crime Laboratories.
Ms. Roach has handled over 600 vertical cases involving gangs, major narcotics, and family protection. She has prosecuted 77 jury trials to verdict, including 11 murder cases. She was the sole prosecutor in the trial against the murderer of surfer Emery Kauanui, which garnered significant national media attention and resulted in a California Supreme Court opinion validating her use of an implied malice murder theory in the case, now a standard for second degree murder prosecutions in California. Ms. Roach has also tried numerous other serious felony cases including attempted murder, torture, kidnapping, rape, serial robbery and burglary, poisoning, witness intimidation, stalking and criminal threats. She also has significant experience in Appellate litigation, having filed briefs with the California Supreme Court and the United States Supreme Court.
Ms. Roach is an expert in gang prosecution, the development of informants, protecting confidential information and vulnerable witnesses, and complex wiretap investigations. She has assisted in the preparation and drafting of wiretap affidavits targeting networks of prison gang operatives on death row, multiple cold case homicides, and targeted gang investigations. She also worked on multiple gang projects aimed to solve homicides and reduce violence through intervention.
Ms. Roach is also a veteran instructor of lawyers, law enforcement, and students at both the law school and college level. She is a frequent lecturer on case preparation, closing argument, inclusive voir dire, California's Racial Justice Act, and elimination of bias in prosecution. She has taught Advanced Appellate Advocacy and California Criminal Trial Process at the collegiate level and instructed law enforcement on a wide variety of subjects including expert testimony, Miranda, report writing, and procedural justice.
Ms. Roach helped form the NDAA Women Prosecutors Section, San Diego Women Prosecutors, and Power League, a school based DA outreach program. She served on the board of directors for California District Attorneys Association and the San Diego Deputy District Attorneys Association, which awarded her their 2009 "Outstanding Prosecutor" and 2019 "Prosecutor of the Year" awards as well as two service awards. Ms. Roach has received 3 FBI Director Commendations and numerous other local law enforcement commendations.