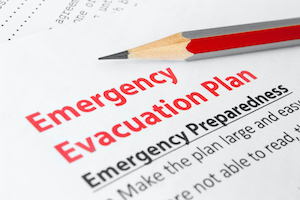 Are You Prepared?
Disaster has hit prosecutors' offices in a variety of ways: flooding (East Baton Rouge, Houston), hurricanes (New Orleans, Miami), fire (Missouri; New Jersey) and terrorism (New York). Even less destructive forces, like a snow storm, can impede a prosecutor's office ability to function. Planning in advance of an emergency is critical for the safety of employees and for assuring that essential work can continue. Here are three areas for consideration:
Communication with Employees
Contact Information: It is important that the office maintain up-to-date contact information for all employees. Facebook and other social media can be important ways to communicate when there is an emergency.
Access to Information: Employees should be provided with a card that provides multiple ways to receive information about how to respond in an emergency. The various methods can include an emergency phone number, an emergency page on the office's website and a pre-determined phone-calling tree that employees can use to obtain information or check on colleagues. The office should designate and train staff members to be responsible for updating the emergency information. Read Sample Memo (Office of the NYC Special Narcotics Prosecutor).
Risk Assessment
The office should assess the risk to personnel, office space and records and develop a plan for how to address the risk. This document will require collaboration with other agencies. Read Sample Risk Assessment and Disaster Response (East Baton Rouge, Louisiana)
Fund Raising and Pool of Leave Time
The office can create a mechanism for collecting funds and pooling leave-time for office personnel who have been affected by the emergency. Read Sample Agreement for an Employee Disaster Relief Fund. Read Sample Leave Sharing Agreement. (East Baton Rouge Louisiana)